The Top 10 Reasons to Retire in Myrtle Beach
Myrtle Beach is extremely popular these days. People come from all over the world for various events and festivals that happen in the area throughout the year, and times like the Fourth of July seem to be like a madhouse. If you're looking to retire, you probably want to get away from it all and have your own little piece of paradise. If you're looking for peace and tranquility that is away from it all and a prime place to spend out the later years of your life, it doesn't sound like Myrtle Beach would be the place, right?
Wrong. This is absolutely wrong.
Yes, there are parts of Myrtle Beach that get crowded during busy times of the year, but this small drawback is very avoidable in the grand scheme of things, and it certainly doesn't detract from the overall paradise that you can experience throughout the rest of the year! Despite any negative things you may have heard, Myrtle Beach is quite possibly the perfect place to retire. This post is going to outline the top ten reasons to retire in Myrtle Beach.
1. Perfect South Carolina Weather
We wrote about this one pretty extensively in our post about the weather in Myrtle Beach, but basically, the weather in Myrtle Beach is almost perfect for retirees all year long. In the summer, temperatures get warmer but very tolerable, and in the winter the temperature doesn't drop too far below 50 degrees Fahrenheit. Seeing snow is probably something you will never have to worry about, and outside of July and August the heat should not really ever exceed 90 degrees Fahrenheit.
The true sweet spot of Myrtle Beach weather, however, is the spring and fall, otherwise known as the shoulder seasons. The weather in the spring and the fall is by far the best weather in Myrtle Beach, and we even wrote in our post about the best times to visit Myrtle Beach that October is surprisingly one of the best times of the year to visit! If you like moderately warm weather but still want to see four seasons, Myrtle Beach is the perfect place for you.
2. Endless Shopping and Dining Options
This is actually the reason that many people come to Myrtle Beach. A good portion of people that come don't even care about the beach itself – they come for the areas top notch dining and shopping scene. Broadway at the Beach and Barefoot Landing provide awesome places to spend a day or an evening shopping and eating, as they are both filled with boutique stores and fantastic restaurants. If you are looking to snag good deals, you can head to the Tanger Outlets of Myrtle Beach, which are filled with retailers ranging from Nike to Levi, and beyond.
While the shopping and dining in places like Broadway at the Beach and Barefoot Landing are fantastic, and the steep discounts that you can find in the Tanger Outlets of Myrtle Beach are definitely something to write home about, arguably the best thing to mention when it comes to shopping and dining is the myriad of restaurants that dot the coastal highway. From local favorites like The Grumpy Monk to classic eateries like Crabby Mikes, there are plenty of places to eat your fill in Myrtle Beach, and you definitely won't go hungry!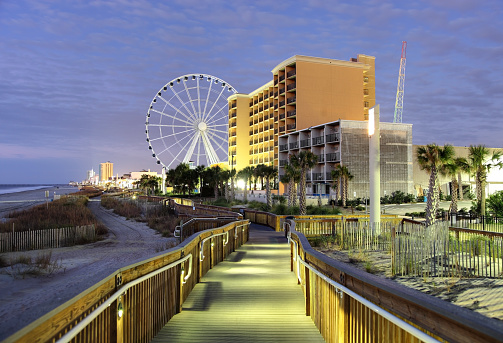 3. Fantastic Golf Courses
Myrtle Beach is nationally famous for its golf; some might even argue that it is an international golfing destination. The Myrtle Beach area is the home of over 80 award-winning golf courses, and each one has something unique about it. The courses are exquisite, but the weather and the scenery during your day on the green is what elevates the experience even further. Imagine golfing with a view of the Atlantic Ocean on a perfect, sunny and 75-degree day. It doesn't get any better, right? If you retire in Myrtle Beach, this can be your weekly reality and you can explore each and every one of those award-winning golf courses.
The other factor that makes Myrtle Beach such a great place to golf is the low cost to play. While the courses are world-class, you'll find that the greens fees are often significantly lower than they are at home, because Myrtle Beach just tends to be a cheap place to spend your time. More on that later, but lower greens fees mean you can afford more days each week golfing!
4. Friendly People
I promise you, the cliché is true. People really are so nice in the South! If you're coming from the North or the West Coast, odds are you've heard of "southern charm." Let me just say, nine times out of ten, this is really the case. People in the south just tend to be extremely friendly, and North and South Carolina might just be the friendliest states in the country.
Maybe this can all be attributed to the high amount of sunshine and great weather. Or maybe it is a result of the sea breeze sweeping over the area in the morning. Regardless, whatever the cause is, the people here are very friendly and it makes living in or visiting the area extremely relaxing and pleasurable. If you don't believe me, take trip to Myrtle Beach yourself and witness just how friendly everyone tends to be.
5. Affordable Housing Market
If all of that still isn't enough to convince you that Myrtle Beach is a great place to retire, maybe these next few points will be. Firstly, the housing market is Myrtle Beach is very friendly to buyers. The prices are very low when you consider the fact that you are buying prime real estate by the beach, and the current mortgage rates are also quite low. These two things added together mean that it is the perfect time to be checking out real estate options in the Myrtle Beach area! If you are thinking that this may be an option for you, even if you are just generally curious, you should reach out to us and chat. We have decades of experience selling properties in the area and would love to help you think about finding the perfect home!
Now, just how cheap is housing in Myrtle Beach? According to Zillow, the average home price in Myrtle Beach is currently around $231,000. This number is roughly $50,000 cheaper than the national average, which is shocking considering that Myrtle Beach is such prime real estate! Buying a property in Myrtle Beach now with such low values provides a good opportunity for your investment to grow over the coming years, too.
6. 60 Miles of Coastline to Live in
Remember at the beginning when we mentioned that a little bit of congestion in the city of Myrtle Beach during the busy times of the year was not enough to ruin your experience there as a retiree? That's largely because the area is so massive, you can always find a peaceful place to pass the time. In fact, if you choose to live in a more relaxed area, like North Myrtle Beach, you'll feel the effects of the busy season even less. With 60 miles of coastline, the Myrtle Beach area stretches almost two hours from top to bottom. The majority of tourists coming during the busy months stay closer to the city of Myrtle Beach and just outside in Surfside Beach. So, if you live a bit further away from the heart of things, you'll feel the busy months even less.
This doesn't have to mean that you're away from all the fun, either. During the busy months, traffic is much worse and is the reason that the area may take two hours to drive from top to bottom. In the lower months, there is not much traffic at all, and you can get all around the area much more quickly. If you visit the area and take your time exploring, odds are you'll be able to find the perfect area to live in according to your own desires and standards.
7. Low Taxes and Cost of Living
We touched briefly on this one earlier, but I wanted to take a second and point out exactly why Myrtle Beach is such a cheap place to live. One of the biggest factors in this is the low taxes throughout all of South Carolina. The income tax for a typical person in South Carolina is one of the lowest income tax rates in the country, and the property and gas tax rates are extremely low as well. Comically, people that live on the border of North and South Carolina, like in Charlotte, drive across the border into South Carolina whenever they need gas. It can be as high as forty cents cheaper per gallon in South Carolina!
These tax factors contribute to a generally low cost of living. This is why housing is cheap, golfing is cheap, and the gas you'll use to get from your house to the golf course is cheap! As a retiree living on a generally fixed income, effortless ways to save money like this go a long way in stretching your budget and spending money on the experiences that you value most.
8. Calabash Seafood
I know that I already wrote about dining in Myrtle Beach, but locals would argue that Calabash Seafood is so special that it deserves its own bullet point in this post. In fact, we even wrote an entire post about it, which you can find here. Now, what is Calabash Seafood and why is it so special?
Calabash is a style of cooking, and in basic terms it is the deep frying of very fresh seafood that is lightly battered in corn meal. The corn meal batter adds a slightly sweet taste to the food, and the proximity to the ocean makes the seafood extra fresh and delicious. Calabash Food has been famous in the area for almost a century, and it is, by itself, one of the reasons you should retire in Myrtle Beach. It is served up in all-you-can-eat buffets throughout the area, and the number of foods that can be fried and served Calabash style is more than you can probably imagine. On your next trip to Myrtle Beach, be sure to check out Crabby Mike's or The Original Benjamin's to see what all of the hype is about.
9. Excellent Healthcare Providers
As a retiree, you probably care about having great healthcare. In fact, this should be one of the biggest factors playing into your decision when it comes to where you retire. Myrtle Beach certainly meets the mark when it comes to providing high quality, accessible healthcare. The area is home to three major healthcare systems: Grand Strand Regional Medical Center, Georgetown Hospital System, and McLeod Health. Each of these health systems has several satellite offices and provides every typical service that you could need at a very high level.
On top of the great hospital systems and doctors that are found throughout the area, you can also rely on several top-notch nursing home facilities that specialize both in assisted living and patient rehabilitation. When you decide to retire in Myrtle Beach, you can rest assured that you are in good medical hands.
10. Amazing Beaches
The beaches may be the final item on the list of the best reason to retire in Myrtle Beach, but they are certainly not the worst of the reasons! The beaches in the Myrtle Beach area are very good, especially by East Coast standards, and there is a beach that suits everyone's needs. Some beaches are more laid back and quiet, others are popular for families, and some are known as the busy, loud beaches that get jam-packed with crowds.
Regardless of the type of beach you prefer, all of the beaches along the Grand Strand have great water temperatures during the beach season, have very fine and smooth sand, and offer incredible views of the sunrise. If you enjoy the sunrises, walks, or picnics on the beach, Myrtle Beach is an incredible place for you to retire.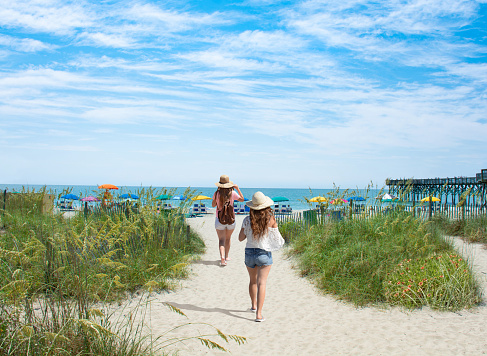 Hopefully this post provided some insight about retiring in the Myrtle Beach area. It honestly is a fantastic place to retire, and the best way to know if it is for you is to take a trip and visit! You need to try the Calabash food and see the epic sunrises before dividing to live there permanently anyway, right? If you visit Myrtle Beach and fall in love, reach out to us for help. We at The Boyd Team are always here to help you figure out whether Myrtle Beach is your next home or not, and we are committed to helping you find the right property for your needs and dreams.
Any question that you have about moving to the area and finding your dream home by the beach is our pleasure to answer. Feel free to send us an email at eddie@boydteam.com or text or call us at (843) 222-8566, and we will get back to you as soon as we can. Being true natives of the Grand Strand and Horry County and with over 25 years of experience in the local real estate market, whether buying or selling, we can help you make your dreams a reality.
No One Knows The Grand Strand Better! Trust, Knowledge, Experience, Professionalism, You Can Count On!