Our Picks of the 5 Best Things Myrtle Beach has to do in July
Myrtle beach is a fantastic place to visit year-round, as we talked about in our post on the best time of the year to visit Myrtle Beach. However, June and July are without a doubt the busiest time in this East Coast paradise. With so many people flocking here in July, there must be endless awesome things to do, right? The answer is a resounding yes, and this post will outline what we think are the 5 best things to do in Myrtle Beach in July.
1. Walk Around Broadway at the Beach and Barefoot Landing
Broadway at the Beach and Barefoot Landing are two of the most famous areas in all of the Myrtle Beach area, largely due to their popularity as shopping destinations. As a result, they're obviously going to be on the list of the best things to do in Myrtle Beach in July! While shopping is what they are primarily known for, both of them have a lot more to do than just shop! If you're looking for a more family-friendly atmosphere, head to Broadway at the Beach and check out the restaurants, shops, rides, and activities for all ages. If you want a slightly more mature (but kids are still welcome) vibe, head to Barefoot Landing, where the shops feel slightly higher end. Whichever you decide to visit, be sure to come on an empty stomach!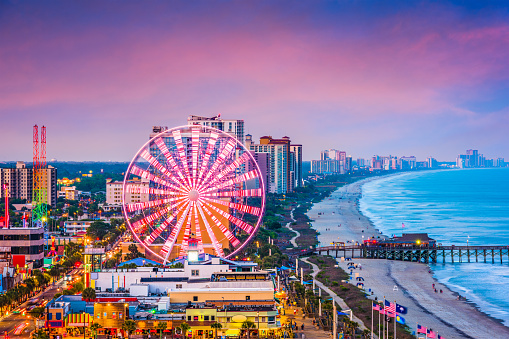 2. Go to a Myrtle Beach Pelicans Game
The Myrtle Beach Pelicans are the local minor league baseball team, and they are currently a single A affiliate of the Chicago Cubs. Single A baseball isn't really known for drawing massive crowds (at least from a talent perspective) but the Myrtle Beach Pelicans really up the ante with great food, an awesome stadium, and fantastic promotions all year long. They really care about creating a fun atmosphere for attendees, and they've found a lot of ways to think outside of the box to engage with fans – one of those being a bat dog instead of a bat boy! A night at the ballpark is easily one of the best things to do in Myrtle Beach in July.
3. Spend a Day on the Beach
The city is named Myrtle Beach, and you are planning on visiting in July. How could I not include this on the list of the best things to do in Myrtle Beach in July! The Myrtle Beach area has a coastline spanning 60 miles, which means that you'll always be able to find a spot to call home for the day. July is the busiest time of the year in Myrtle Beach, and as a result the crowds are at their fullest. While there is always room for more people on the beach, it is probably best to arrive earlier in the day to stake out a good spot. Be sure to bring some fun beach activities and games like Spikeball! Also, remember that drinking alcohol on any beach in South Carolina is not permitted and can earn you a fine.
4. Catch the 4th of July Fireworks Celebrations
While the month of July is a full 31 days, the busiest week of the month is easily the 4th of July weekend with everyone coming to take advantage of their time off of work. The whole city of Myrtle Beach knows this week will be packed every year, and they make sure to offer extra fun things to do for visitors! Some of the best 4th of July celebrations in Myrtle Beach are the fireworks shows that take place all over the city. The best way to know where to go to see the best fireworks is to simply search online, as it changes every year. While this week is extremely packed and usually means longer wait times at restaurants and in stores, it's absolutely worth it for the festivities that the city of Myrtle Beach hosts! Celebrating Independence Day is absolutely one of the best things to do in Myrtle Beach in July.
5. Watch a Free Movie Under the Stars
The Market Common Movies Under the Stars is the final thing on our list of the best things to do in Myrtle Beach in July. Every Friday in July, the Market Common hosts a free movie showing at dusk. While that tends to be around 9pm, they make a point of emphasizing that the start time is not 9:00pm sharp; it's dusk, whenever that may be! Be sure to bring a blanket or lawn chair to watch the movie on. Last July they showed Onward, Wonder Woman 1984, Footloose (the original version), Jurassic Park, and Raya and the Last Dragon. For up to date information about movie showings, be sure to check out their Facebook page.
Hopefully after reading this post, you have a better idea of the best things to do in Myrtle Beach in July. It really is an incredible time to visit Myrtle Beach, and we're sure you will love it! If you decide to visit Myrtle Beach in July, let us know!
We at The Boyd Team are always here to help you figure out whether Myrtle Beach is your next home or not, and we are committed to helping you find the right property for your needs and dreams. Any question that you have about moving to the area and finding your dream home by the beach is our pleasure to answer. Feel free to send us an email at eddie@boydteam.com or text or call us at (843) 222-8566, and we will get back to you as soon as we can. Being true natives of the Grand Strand and Horry County and with over 25 years of experience in the local real estate market, whether buying or selling, we can help you make your dreams a reality.
No One Knows The Grand Strand Better! Trust, Knowledge, Experience, Professionalism, You Can Count On!