Things to Do in Myrtle Beach With the Whole Family
Myrtle Beach is a great place that is absolutely packed with things to do. From fantastic beaches to world class restaurants, Myrtle Beach check a lot off of most peoples' bucket lists. One thing that is very nice about Myrtle Beach is that its range of activities is very broad. This enables you to plan itineraries for adult-only getaways, senior citizen retreats, family vacations, and more. If you have been considering moving to Myrtle Beach but are worried about finding things that your children or grandchildren will be able to do, look no further; we have got you covered here! Whether you are planning a family vacation or are looking to move to the area, this post will take a look at some of the best things to do with a family in Myrtle Beach. Note that these events are not explicitly for kids, but rather are things that people of all ages can enjoy.
1.
Spend a Night at the Ballpark and Watch a Myrtle Beach Pelicans Game
Whether you are a baseball fan or not, a night out at the ballpark is always one of the best things to do in Myrtle Beach. The Myrtle Beach Pelicans are just a Single-A level baseball team, meaning the vast majority of these players will never actually make it into the major leagues. As a result, they are really just there to have fun and play a game they love. This makes for a really fun environment and dynamic in the stadium, and the cool night air is a really refreshing way to relax and recharge from a day in the heat. Tickets to Myrtle Beach Pelicans games are extremely affordable, making this a really fun night out for the whole family that refrains from putting much of a dent into your wallet. For more information about pricing, schedules, and tickets, visit the Myrtle Beach Pelicans website here.
2.
Enjoy Dinner in the Company of Knights or Pirates at a Dinner Theatre
You don't need to travel all the way to England to meet Knights or the Caribbean to meet Pirates! Myrtle Beach, much like Orlando, is highly regarded for its outstanding dinner theaters. Pirates Voyage and Medieval Times are the two most noteworthy dinner theaters in Myrtle Beach, and both of them are a real treat for the whole family. At each of these locations you buy a ticket that includes dinner and entrance to the show. Both of them are a really spectacular way to spend an evening out with the family, and neither one is really better than the other. It just depends if you prefer jousting or looting! Be sure to buy your tickets in advance, as the shows can fill up ahead of time.
3.
See the City From Above in the Myrtle Beach Skywheel
The Myrtle Beach Skywheel is a very big observation wheel that towers over the city. In fact, the Myrtle Beach Skywheel is one of the most iconic parts of the Myrtle Beach skyline. Standing at almost two hundred feet tall, the Myrtle Beach Skywheel provides stunning views of the Grand Strand down below. You should note that the Myrtle Beach Skywheel is not a ferris wheel or a carnival ride; it is a bonafide observation wheel, complete with nearly 360-degree windows and slow moving speeds so that you can soak up every bit of the stunning views it offers. It is very similar to the London Eye, if you have been to Londong. For information about pricing, tickets, and operation schedules, be sure to consult the Myrtle Beach Skywheel website here.
4.
Admire the Statues and Wildlife at Brookgreen Gardens
Brookgreen Gardens is one of the most highly decorated attractions in the entire area. This outdoor blend of wildlife, botany, and statue art is one of the only places in the country to be recognized and awarded officially by both art organizations and zoo organizations. The itinerary at Brookgreen Gardens changes every day, and they are notorious for hosting seasonal and locally renowned events. If you want to visit Brookgreen Gardens, be sure to book your tickets online in advance on their website here. In addition to buying tickets, their website is the best place to learn more about what they do and what all will be going on during the day that you wish to visit.
5.
Pump some Adrenaline at the Broadway Grand Prix

The Broadway Grand Prix is one of the most adrenaline pumping spots in the whole Grand Strand. This activity complex hangs it hat on its seven different go kart tracks, but also offers an arcade, a rock-climbing wall, and two miniature golf courses! Buying an entry ticket grants you access to all of these different activities, and seasonal passes are offered as well. The Broadway Grand Prix is a place that is designed for people of all ages, but kids are definitely the ones who will love this action-packed complex the most. For information about pricing, schedules, and tickets, check out their website here.
6.
Put on Some Sunscreen and Spend a Day at the Beach
Why would you go to Myrtle Beach and not actually go to the beach? While this one might seem a bit too obvious, it absolutely deserves its spot on this list. The beaches along the Grand Strand are known for being very family-friendly, and no trip to Myrtle Beach is complete without a day of throwing a football, building sandcastles, boogie boarding, and soaking up the sun. The beaches all along the area are nice, but Surfside Beach is often regarded the nicest beach for young families. This is only a ten- or 15-minute drive south of the center of the city, and the calm waves and beautiful sand are well worth the trip!
7.
Observe some of the Ocean's Most Beautiful Creatures at Ripley's Aquarium in Broadway at the Beach
Ripley's Aquarium is one of the most popular attractions in the Grand Strand, and it's location in Broadway at the Beach makes it extremely accessible and easy to pair with other activities. This aquarium is one of three Ripley's Aquariums in the Americas, as there is another one in Gatlinburg, Tennessee, and one in Toronto, Ontario. The marine life on display ranges from small fish, to penguins, to sharks, and more. If you like penguins, you should be sure to buy tickets to one of their Penguins and Pancakes events which happen once or twice every month! This is an opportunity to eat breakfast in the aquarium, meet the aquarium's mascot, and gain early admission to the aquarium afterwards. For more information on the aquarium and getting tickets, visit their website here.
8.
Or Get Up Close and Personal With Some of the Most Dangerous Creatures on Earth at the Alligator Adventure
If graceful penguins are not your thing, or if you need more adrenaline than just seeing sharks from behind glass, look no further than the Alligator Adventure. Alligators are one of the most dangerous animals on earth, and the Alligator Adventure gives visitors the chance to get up close and personal with these violent creatures. The danger and thrill doesn't stop there, though. Alligator Adventure is the home to many other dangerous and not dangerous animals, like mountain lions, crocodiles, hyenas, big lizards, ostriches, and more. This is a really unique place to visit, and its location by Barefoot Landing makes it very easy to pair with other activities on your itinerary. This is a place that the whole family can enjoy, and for more information on offerings and tickets be sure to visit their website here.
9.
Slide Headfirst into Fun at Myrtle Waves Water Park

When the hot summer sun is beating down, there is no feeling as great as stepping into a nice, cool body of water. Whether that is the ocean or a pool, stepping into some cool water feels magical under the hot July South Carolina sun. Myrtle Waves Water Park is the perfect solution to a hot day under the sun with the family, as they offer refreshing food and drinks, relaxing pools, and thrilling water slides. Going to a water park is one of the best ways to stay out in the sun while doing something other than laying at the beach. Having all of the water nearby makes a quick dip to cool off very possible, and some of the slides are really tall and exciting. For information about tickets and prices, be sure to check out their website here.
10.
Exercise the Children's' Thinking Caps at WonderWorks Myrtle Beach

WonderWorks Myrtle Beach is like an amusement park for the mind. In fact, the word that they use on their website is "edu-tainment." This complex of over 50,000 square feet has over 100 exhibits that are designed to stretch the imagination and the mind. They offer a zipline and ropes course, a laser tag zone, a physical challenge zone, an outer space discovery zone, an extreme weather zone, a light and sound zone, a wonder art zone, and more. This location is designed for people of all ages, easily making it one of the best things to do in Myrtle Beach with the whole family. Tickets are only $31.99 for adults and $25.99 for kids, making this a surprisingly affordable outing as well. For more information and to buy tickets online, be sure to check out their website here.
11.
Hop Around at one of Myrtle Beach's Trampoline Parks
If you have never been to a trampoline park with the family, Myrtle Beach is a great place to try it. Trampoline parks have ben getting increasingly popular over the past ten years or so, and they are a great place to take a family – especially one with younger children. Trampoline parks often have fun games like trampoline basketball, and letting the kids bounce around is a great way to get them some exercise while also helping them to get some of their energy out! Two of the biggest trampoline parks in Myrtle Beach are Big Air and Rockin' Jump. Visit their websites for more information on pricing, offerings, and schedules.
12.
Take an Evening Stroll around Broadway at the Beach or Barefoot Landing

Barefoot Landing and Broadway at the Beach are two of Myrtle Beach's premier locations, as they offer a beautiful place to step out and go shopping, grab dinner, or have an evening stroll. Broadway at the Beach is the much more family-centric option of the two, but both are very family-friendly. Each of these locations is filled with stores, shops, and restaurants, and Broadway at the Beach has several games and activities that are great for children and teenagers as well. For a nice evening out that requires no planning and little effort, heading to either Barefoot Landing or Broadway at the Beach is always a great idea.
13.
Play a Round of Mini Golf at one of the Countless Miniature Golf Courses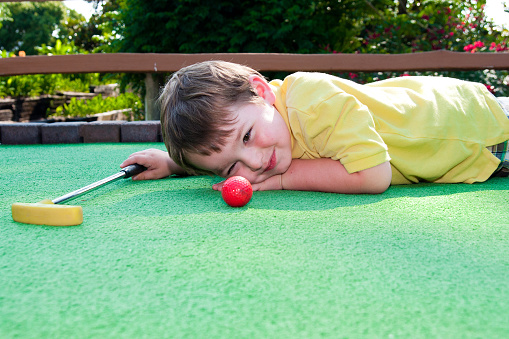 What is a family vacation or visit without some miniature golf? Miniature golf is one of the most popular activities in Myrtle Beach, and any drive along the road will show you very quickly just how many miniature golf courses there are here. You probably pass at least one miniature golf course every five minutes that you drive along the main road. Miniature golf is a very fun family activity that can be played by everyone in the whole family. It is always very affordable and can be as competitive or non-competitive as you wish! There is never a need to make a reservation or buy tickets in advance, meaning that you can decide to spend a night at the miniature golf course at the last minute without any issues. Also, no evening of miniature golf is complete without ice cream right after!
14.
Go for a Hike Along the Beach or in one of the Nearby State Parks

People often forget that South Carolina has a lot more natural beauty to offer than just along its beaches. There are countless state and national parks in South Carolina, and several of them are within easy reach of Myrtle Beach. If the fast pace of Myrtle Beach gets overwhelming, a trip into one of the state parks for a hike or a picnic is one of the best ways to decompress. In fact, there is even a Myrtle Beach State Park, which doesn't even require you to leave the area! If the woods are not very appealing to you, consider going for a long walk on the beach. The sunrises in Myrtle Beach are stunning, and getting some steps in while the sun rises can be a really rewarding experience!
15.
Take a Day Trip down to Charleston to see some Colonial History

Charleston is one of the coolest spots in all of South Carolina, and its proximity to Myrtle Beach makes it a great day trip. Located just two hours south of Myrtle Beach, Charleston can be easily reached in a rental car without too much planning or thinking. Charleston is one of the oldest cities in the United States, and the number of historical sights to see here is off the charts. From Fort Sumpter and all of its historical significance to adorable, quaint streets, Charleston is a fantastic place to visit while you are in Myrtle Beach. The short drive is very easy to do with small children, and the number of cool things to do in Charleston warrants its own blog post. A visit to Charleston is a great way to get in touch with the United States' colonial roots, and is a great way to add a bit of an educational component to your visit to South Carolina.

Thanks for reading our post about the best things to do in Myrtle Beach with the whole family! Hopefully this post helps you to plan out a few days' worth of events with your family, whether you are visiting Myrtle Beach with them or they are coming to Myrtle Beach to visit you. Myrtle Beach is a major tourist destination, and the number of things to do can often be overwhelming. Hopefully this post served its purpose of condensing the fun activities into a short list of the most family-friendly things to do in Myrtle Beach.

If you do not already live here, and you visit Myrtle Beach or any other place in South Carolina and fall in love, we're here to help. We at The Boyd Team are committed to helping you find the right property for your needs and dreams. Any question that you have about moving to the area and finding your dream home by the beach is our pleasure to answer. Feel free to send us an email at eddie@boydteam.com or text or call us at (843) 222-8566, and we will get back to you as soon as we can. Being true natives of the Grand Strand and Horry County and with over 25 years of experience in the local real estate market, whether buying or selling, we can help you make your dreams a reality.

No One Knows The Grand Strand Better! Trust, Knowledge, Experience, Professionalism, You Can Count On!

Written by Greg