Which Town Should you stay at near Myrtle Beach?
If you have been researching to plan a trip to Myrtle Beach in the near future, you may have realized that Myrtle Beach is more than just one small town – it is a moniker used to describe a bunch of places in the area that is more formally known as the Grand Strand. Myrtle Beach itself is an actual place, but it is surrounded by other wonderful locations like North Myrtle Beach, Surfside Beach, and Murrells Inlet. In this post we will break down what you can expect to find in each of these four locations, and hopefully give you a better idea of which place might be the best one for you to search for accommodation. Each area is worthy of your time in its own way, but each area also caters to a different audience or vibe. This post will help you to determine the ideal spot for you!
1.
Myrtle Beach
Myrtle Beach, the namesake of the broader area surrounding it, is by far the most popular beach in all of South Carolina. It has built up such a massive and successful tourism sector that it can host millions of visitors per year. As the place in the Grand Strand receiving the most annual tourist traffic, Myrtle Beach tends to be very busy and always have a lot going on. If you like to be in the middle of everything and have great dining right at your doorstep, staying in Myrtle Beach may be the ideal option for you.
The luxury of having everything so close does come at a cost, though. Myrtle Beach can be very loud and very crowded, which can take a bit of the relaxation out of your vacation. While it does have a high concentration of great stores and restaurants, it isn't the only city in the area that has a lot to do, and the surrounding places are definitely more relaxed. If you like a bit of solitude while still being in reach of all that Myrtle Beach has to offer, you may be more interested in one of the other places on this list.
2.
North Myrtle Beach
North Myrtle Beach, located just north of Myrtle Beach (if you couldn't guess), offers a great blend of busy with relaxing. Stretching almost entirely to the North Carolina border, North Myrtle Beach has a great offering of restaurants, golf courses, and other activities. Barefoot Landing, one of the premier shopping centers in the Grand Strand, is located within the borders of North Myrtle Beach, too.
One of the greatest strengths of North Myrtle Beach is its proximity to all of the main attractions in Myrtle Beach while still maintaining its peace and quiet. Getting to major tourist stops, like the baseball stadium and Broadway at the Beach, is very quick and easy, and the restaurants in the area tend to be much less crowded than in Myrtle Beach. If you want a convenient blend of quiet with convenience, you should consider checking out North Myrtle Beach.
3.
Murrells Inlet
Located about a half hour south of Myrtle Beach, Murrells Inlet is a bit of a drive away from all of the fun in Myrtle Beach. Don't worry though! Murrells Inlet is filled with plenty of things to do on its own. This small fishing village was apparently once the home to the legendary pirate Blackbeard, giving it a unique identity. Nowadays, the quaint and beautiful town has grown around the tourism industry, and it provides a great, slightly more remote place to stay in the Grand Strand.
Murrells Inlet has some really great dining options, too, meaning you would not need to drive all the way to Myrtle Beach to grab a nice bite to eat. One very unique option is the Dead Dog Saloon, which has created a reputation of its own. Regardless, Murrells Inlet is a great option for people looking for even more peace and quiet who don't mind being a bit further away from the action in Myrtle Beach. The great restaurant scene here honestly makes visiting Myrtle Beach unnecessary unless you're looking to do something that is specifically located there, like Broadway at the Beach.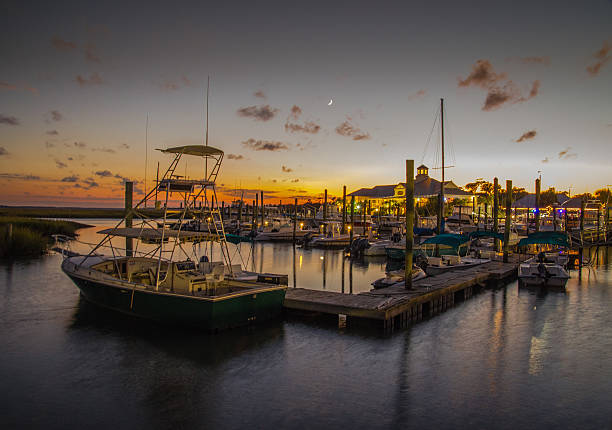 4.
Surfside Beach
Surfside Beach is my personal favorite, and here's why. Firstly, it is located just a short drive – like ten minutes – from all of the action of Myrtle Beach. Secondly, I think that the beach in Surfside is the nicest in the whole Myrtle Beach area. The sand is very fine and nice, the water is pretty clear for the area, and the beach doesn't tend to be packed. In fact, that is the main draw of Surfside Beach. It is known as the family beach area, as it is most frequented by families looking for a safe and quiet place to take their kids.
Surfside Beach's proximity to all of the action in Myrtle Beach while still maintaining its relaxed, peaceful, and safe atmosphere is what makes me personally recommend Surfside Beach to any friends or family I have visiting the area. If each of the options I already wrote about appealed to you in some way, Surfside Beach is kind of the perfect blend of them all. If I were you, I'd be sure to consider Surfside Beach for your next trip to the Grand Strand.
Hopefully this post helped you to determine which town you should stay in near Myrtle Beach on your next trip to the Grand Strand. If you visit Myrtle Beach and fall in love, reach out to us for help. We at The Boyd Team are always here to help you figure out whether Myrtle Beach is your next home or not, and we are committed to helping you find the right property for your needs and dreams.
Any question that you have about moving to the area and finding your dream home by the beach is our pleasure to answer. Feel free to send us an email at eddie@boydteam.com or text or call us at (843) 222-8566, and we will get back to you as soon as we can. Being true natives of the Grand Strand and Horry County and with over 25 years of experience in the local real estate market, whether buying or selling, we can help you make your dreams a reality.
No One Knows The Grand Strand Better! Trust, Knowledge, Experience, Professionalism, You Can Count On!
Written by Greg